Winter Sax-Zim Bog Owl Tour
February 18 @ 7:00 pm

-

February 21 @ 10:00 pm

EST
Explore the Northwoods of Minnesota in search of the elusive Great Gray Owl!
Indiana Audubon is proud to present another winter season of great birding and an opportunity for members to view the winter specialties of the north woods February 2022. Like the Winter Snowy Owl UP Tour, this caravan birding tour would extend the birding possibilities, to a location where both Great Gray Owl and Northern Hawk Owl are more consistently seen, whereas Snowy Owls are more abundant on our UP Tour.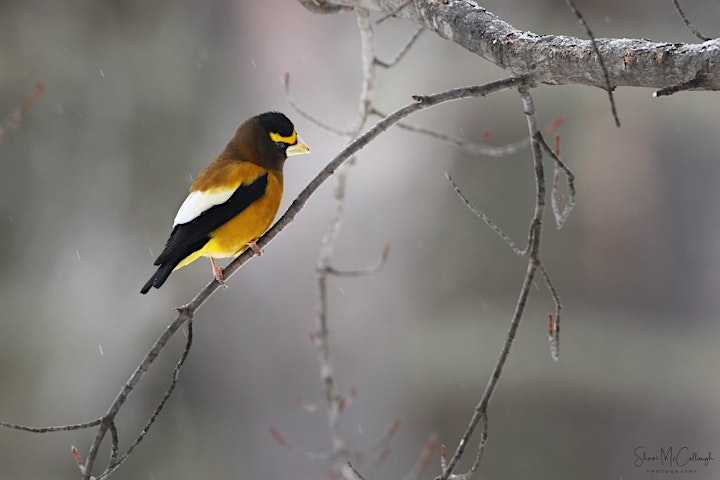 This year's dates are February 18-21, 2022 and will be led by IAS member and guide, Shari McCollough and IAS Outreach and Communications Manager, Sam Warren. Both Shari and Sam have toured the Sax-Zim Bog area and are familiar with the locations and birding areas around the Duluth area. A maximum of 10 participants are allowed to register, a reduction to continue social distancing concerns.
This year's trip will involve single day drives with no general birding to and from the Duluth, MN area the first and last day. Lodging all three nights will be in private cabins located directly in the Bog (Alesches in Meadowlands) which include complimentary breakfast for participants and a family style meal all three nights. The tentative schedule is below:
Friday, Day 1: Participants should arrive, approximately 10-hour drive, before sunset. Check in and dinner at Alesches.
Saturday, Day 2: Bird by car to Sax-Zim Bog. Also visit Morse Feeders, Abramson's Feeders, Owl Avenue and Welcome Center, Meadowlands Sewage Ponds. Lunch in the field. Departing back for Duluth, the trip would bird the lakeshore for waterfowl. Dinner at Alesches.
Sunday, Day 3: Morning birding in Yellow-bellied Bog, Pine Warbler Woods, Admiral Feeders, NW side of bog for Northern-Hawk Owl. Dinner at Alesches.
Monday, Day 4: Return trip to Indiana.
TOTAL COST per person IAS Member: $553.00. Single Supplement: $280.00. Non-Member Cost: $603.00
All participants must read and agree to the IAS Field Trip Release to participate in IAS led events and trips.