Goose Pond Weekend Birding Trip 2022
May 7 @ 8:00 am

-

May 8 @ 10:00 am

EDT
Join us down at Goose Pond for another epic birding weekend!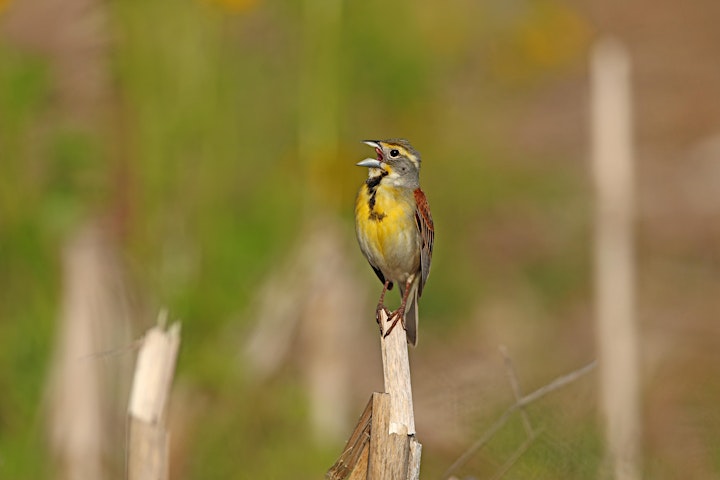 In 2022, IAS will present a big day of birding at Goose Pond and nearby properties to gain appreciation for the diverse breeding birds that call Goose Pond home. While a single day can see many birds in early to mid-May, this trip will aim to observe the full suite of amazing birds found in the wetlands, prairies, and forests of the area. The goal will be to log well over 100 species on what is also the Cornell Lab's Global Big Day in what will truly be the ultimate Goose Pond migration experience.
Goose Pond Fish & Wildlife Area, and the nearby Greene-Sullivan State Forest boast nearly 20,000 acres of prairies, wetlands, and forest land. The continuing restoration of habitat at Goose Pond FWA has created a wildlife mecca that has quickly become one of the state's best birding areas and has hosted an amazing array of rarities since its creation. As part of the birding, an evening bird excursion will occur for woodcocks, nightjars, and owls.
An early start Saturday will meet at the Goose Pond Visitor Center and will include a full day of birding, a box lunch at Goose Pond, followed by afternoon birding. This trip includes Saturday night lodging for participants in nearby Sullivan. If major targets are missed, birding early Sunday may be a possibility. Your trip leaders are Bill Sharkey and Richard Garrett, who have extensive experience birding Goose Pond and around the state.
A Few Target Birds Include:
Bald Eagle
Northern Bobwhite
Chuck-wills-widow
King Rail
Black-necked Stilt
Pied-billed Grebe
Black Tern
Least Tern (slightly early)
American Bittern
Bell's Vireo
Marsh Wren
Grasshopper Sparrow
Yellow-breasted Chat
Prothonotary Warbler
Orchard Oriole
Dickcissel
Blue Grosbeak
Henslow's Sparrow
Registration is required, as Indiana Audubon trips usually fill well in advance of the trip date. Registration fees include all guiding, 1 night accommodations in Sullivan, and a box lunch Saturday. Participants are responsible for transportation and other meals during the trip. For trip logistics questions, don't hesitate to ask Richard Garrett or Bill Sharkey ([email protected]).
TRIP COST: all rates assuming double occupancy*
Indiana Audubon Member: $219.00 per person
Non-IAS Member: $259.00 per person
Single Supplement: $96.00
Photo: Dickcissel by Shari McCollough