2023 Winter Sax-Zim Bog Owl Tour
February 10, 2023 @ 7:00 pm

-

February 13, 2023 @ 10:00 pm

EST
Explore the Northwoods of Minnesota in search of the elusive Great Gray Owl!
Indiana Audubon is proud to present another winter season of great birding and an opportunity for members to view the winter specialties of the north woods February 2023. Like the Winter Snowy Owl UP Tour, this caravan birding tour would extend the birding possibilities, to a location where both Great Gray Owl and Northern Hawk Owl are more consistently seen, whereas Snowy Owls are more abundant on our UP Tour.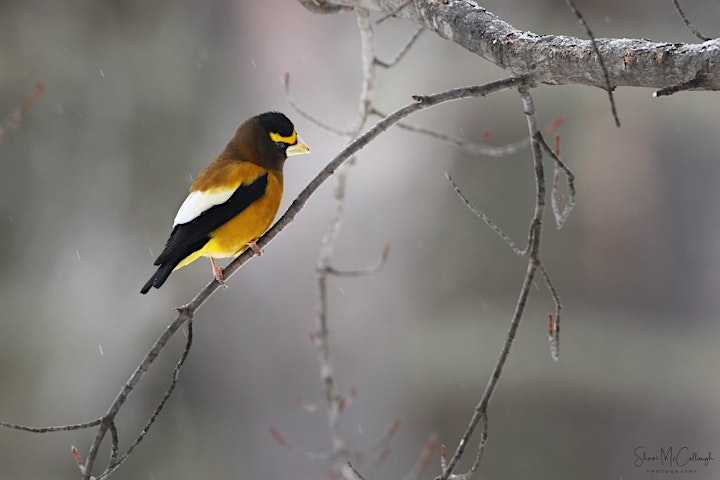 This year's dates are February 10-13, 2023 and will be led by IAS member and guide, Shari McCollough and IAS Outreach and Communications Manager, Sam Warren. Both Shari and Sam have toured the Sax-Zim Bog area and are familiar with the locations and birding areas around the Duluth area. A maximum of 10 participants are allowed to register.
This year's trip will involve single day drives with no general birding to and from the Duluth, MN area the first and last day. Lodging all three nights will be in lodge style cabins located directly in the Bog (Alesches in Meadowlands) which include complimentary breakfast for participants and a family style meal all three nights. Please expect shared common areas and bathrooms at these accomodations. Single supplements will receive their own room but a private bathroom cannot be guaranteed.
Birding in the bog is mainly by car, with some short hikes on various terrain. There are sometimes boardwalks, but sometimes just a packed snow trail. Bathrooms are limited within the bog and the accomodations are 15-30 minutes away, depending on where we are birding. Please be aware that while this trip may not be physically strenous, the days can be exhausting with many in-an-outs of the car and driving around searching for owls. But, it is equally exciting when you see those northwoods specialties!
IAS Trip Ratings
Birding Pace: 3- Moderate Multi-Day Trip. This trip begins before sunrise and birds until sunset, often with an afternoon break. Birding is mainly by car, visiting multiple sites within the Bog each day. We may do extended periods of feeder watching, but quickly shift gears if one of our targets appears in a different area.
Physical Requirements: 3- Medium. Most of the physical toll comes from going in and out of the car in very cold temperatures (commonly below zero, as low as -40 one year). So, while you do not need to be ready to hike long distances, be prepared for your body to be exhausted at the end of each day. Most birding is done by car but we will do some light hiking, averaging around 1-2 miles per day, depending on weather. Some elevation gain may occur, and trails may be a single-file, snowpack through the wilderness.
Birding Skill Level: 2-Beginner. Our target list of species is smaller than other IAS trips, which is helpful for beginning birders. We will often have both beginners and more experienced birders targeting the Northwoods specialties. Birding focus involves extended views of species being seen. Having some knowledge of which species may be seen before attending the trip is helpful.
The tentative schedule is below:
Friday, Day 1: Participants should arrive, approximately 10-hour drive, before sunset. Check in and dinner at Alesches.
Saturday, Day 2: Bird by car to Sax-Zim Bog. Also visit Morse Feeders, Abramson's Feeders, Owl Avenue and Welcome Center, Meadowlands Sewage Ponds. Lunch in the field. Dinner at Alesches.
Sunday, Day 3: Morning birding in Yellow-bellied Bog, Pine Warbler Woods, Admiral Feeders, NW side of bog for Northern-Hawk Owl. Dinner at Alesches.
Monday, Day 4: Return trip to Indiana.
TOTAL COST per person IAS Member: $579.00. Single Supplement: $280.00. Non-Member Cost: $629.00
All participants must read and agree to the IAS Field Trip Release to participate in IAS led events and trips.
—
Cover Photo: Great Gray Owl by Shari McCollough
Tickets go on sale April 8th, 2022 at 10am ET/9am CT